This shop has been compensated by Collective Bias, Inc. and its advertiser. All opinions are mine alone.
#
EverydayCraftMoments
#CollectiveBias
I started bullet journaling as a way to get more organized. I'm always writing about organization and ways to make life a bit more simple, so I figured it was about time that I discuss bullet journaling. You guys know I love my planner, but I always use my bullet journal along with my planner because it makes me feel like I seriously have it all together. Want to know how to create your own? Keep reading!
What even is a bullet journal?
Honestly, a bullet journal is whatever you want it to be. It can contain your planner, your calendar, you to do lists, your gift giving lists, your diary, etc. The best bullet journals are ALL of these things!
Why you need one
So what's the big deal with bullet journals anyway? Well, they're amazing for staying organized in a way that's visually appealing and fun to decorate.
Sure, I still love my planner, but lately I've been gravitating towards my bullet journal because it literally has everything I need it in.


The journal
The first step to starting a bullet journal is obviously the journal itself. I'm a big fan of really simple designs with pages that aren't too large, yet aren't too small.
You really want to get something that makes you happy and speaks to you. You want to love looking at it!
The decor
One of my favorite parts of my bullet journal is the cute ways I like to decorate it. My favorite decor item that I've come across for my bullet journal is
Scotch® Expressions Glitter Tape. I use this product EVERYWHERE in my bullet journal. Don't worry, I'm going to show you just how I do it.
I love the
Scotch® Expressions Glitter Tape Gold and the
Scotch® Expressions Glitter Tape Platinum. I'm obsessed with gold glitter, and the platinum goes so nicely with the gold.
Scotch® Expressions are the perfect combination of versatility, function, and fun. Simple everyday projects become inspired creations with
Scotch® Expressions!
The
Scotch™ Brand
allows you to be hands-on whenever you feel like it. Not only are
Scotch™ Brand products functional and fun, but they are also super price conscious. Especially around the holidays, aren't we all trying to save some extra money?
A bullet journal is a really inexpensive and cute way to keep track of your everyday life.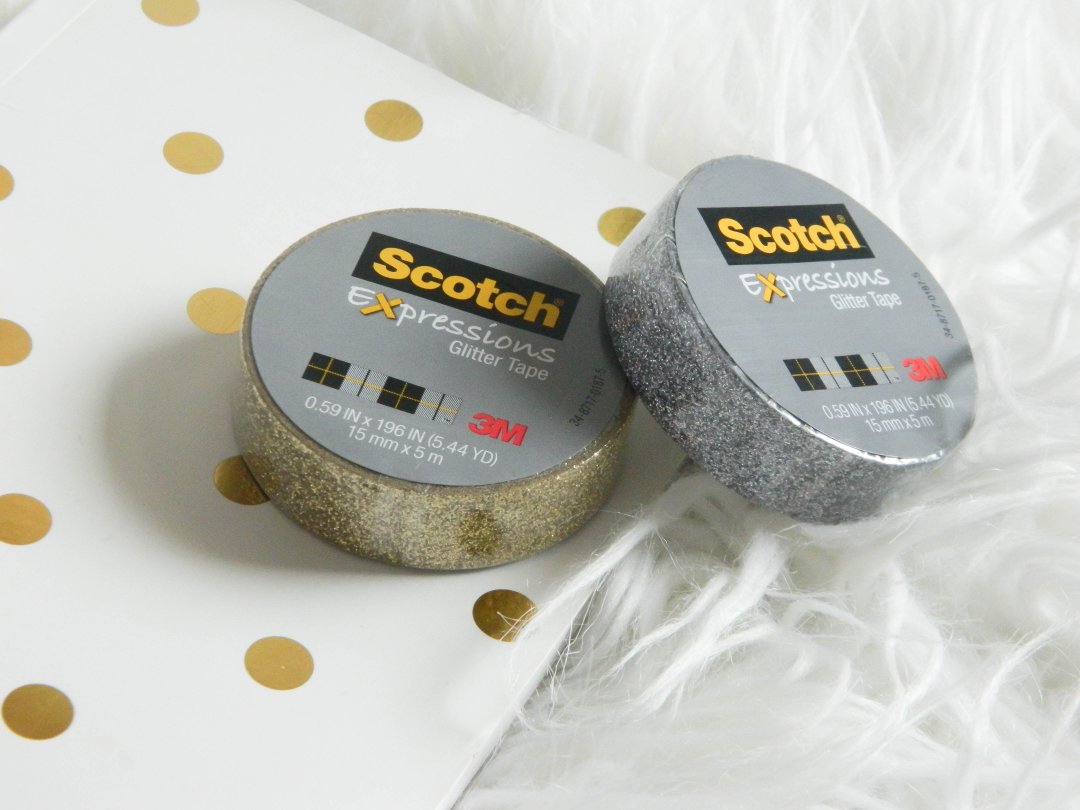 Hover over the above image to shop these awesome
Scotch™ Brand products!
I purchased my
Scotch® Expressions Glitter Tape from my local Walmart which was super convenient. You can find these products in the paper crafts aisle, pictured below!
Let's talk about the content of your bullet journal
Index page:
You don't absolutely need an index page, but it's a great way to keep track of where everything is in your journal so you aren't flipping through a million pages to find what you're looking for.
I used the
Scotch® Expressions Glitter Tape Platinum as my "index" label, and I used the
Scotch® Expressions Glitter Tape Gold to separate my table of contents from my quote at the bottom. The glitter makes the journal so much more fun to look at!
A quote that inspires you
I feel like having a quote that speaks to you is really important for the front of your bullet journal. Every time you open it you'll feel positive and inspired, just as you should whenever you're journaling!
Year at a glance:
It's completely up to you what you keep in your bullet journal, but I really like having a "year at a glance" section. This is really helpful for me when I want to know what day of the week a certain day is. Trust me, I use it WAY more often then you'd think I would.
Monthly view:
I'm also a huge fan of the monthly view. I'll put big events in my monthly view so I have all my important dates right in front of me. Sometimes it's overwhelming to look at the big calendar in my planner because there's just SO much there. Having the most important days of each month written down in my bullet journal makes it a lot easier for me to visualize my time.
Your lists
This is hands down my favorite part of my bullet journal. Keeping all of my lists in one place is so helpful. You guys already know how much I love my lists, so having them together is truly a beautiful thing.
Lists you can keep in your bullet journal:
- Running to do list
- Gifts to buy for Christmas
- Meals to cook
- Grocery lists
- Things to clean
- Things to buy
Anything else you want!
The best thing about a bullet journal? It's so customizable that you can literally put anything you want in it. Even if you just need to jot down quick notes sometimes, everyone can benefit from a bullet journal.